Life and Times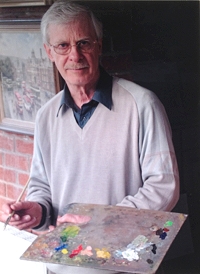 John Chapman
John Chapman
was born in Blackburn, Lancashire, England on 11 September 1946. His parents were William, better known as Bill, and Alice Chapman. During John's early years, he was very much aware that his older brother, Michael, had quite a talent for sketching. He would sit at his side, facinated, for hours on end, just watching his brother produce drawings of cars, ships and aircraft. It was at this point that John felt a compulsion to start sketching. At the age of eleven, John started attending Bangor Street Secondary Modern School in Blackburn. The art teacher there was Peter Shackleton. At the time he had recently achieved celebrity status by selling one of his paintings to Barbara Castle, MP for Blackburn, and had appeared on TV, providing something of an early role model for John. Peter must have recognised that John had some latent talent as he arranged for John to attend classes at Blackburn College of Art on Saturday mornings. James Dolby was head of the Art Department at the time. He inspired a generation of artists in Blackburn and there are several good examples of his work in Blackburn Art Gallery. John had the opportunity to try a wide variety of media whilst attending these Saturday morning classes. Whilst at Bangor Street School, John was introduced by his school pals to the hobby of train-spotting. It was extremely competitive and for John it was a substitute for sport for which he was not at all enthusiastic. When he wasn't train-spotting he was now painting trains mainly in gouache or body colours. Many of these early paintings are still in John's possession. At this point the strongest influence on John as an artist was the railway art he was encountering on regular train-spotting outings, particularly the work of Terence Cuneo:
"I think it was the fact that like myself he painted railway subjects. His work was reproduced as station posters such as the Tay Bridge or Night Freight and could be seen adorning the walls of stations when I was out spotting."
Making a Start
After leaving school in 1961, John started full-time employment working as a junior layout artist in the advertising department of Blackburn's local newspaper - the
Lancashire Evening Telegraph
. Although the job was less than fulfilling creatively, John was still able to attend Blackburn Art College, both as a day-release student studying typography and life class in the evenings. At home, John was still working on his paintings. As well as trains, John was also producing gouache paintings of cars. A reorganisation of the newspaper office led to John being made redundant in 1963. The beautiful
Telegraph
building was itself soon to become a casualty of redevelopment. John's many paintings of the area as it appeared in the 1950s and early '60s remain a testament to his affection for this fine Victorian building. Following the loss of his job at the
Telegraph
, John decided to go back to college as a full-time art student. This gave him the opportunity to work with a wide variety of media and techniques. James Dolby was still head of the Art School together with another fine artist, Garth Edwards. Although attractive, the life of a student didn't pay the bills, so John, looking to combine his passion for art with his passion for transport, started to write to British car manufacturers hoping to find work as a car stylist. Although unsuccessful, John was soon to be offered the job of technical illustrator at British Northrop in Blackburn. His job was to produce exploded line drawings of 'Super Loadmaster' mechanical shovels. These large ink drawings would then be printed up to illustrate service manuals and spare-parts lists. Although the work offered little scope for creativity, he was nevertheless able to refine such techniques that would transfer well to his later topographical line drawings. John carried on in this line of work for nearly four years, then in the spring of 1968 the firm was taken over by JCB. By now, some of the paintings John had done at home were displayed on the drawing office walls and one of the paintings - an oil depicting racing driver Jim Clark driving his Lotus 49 - caught the eye of Anthony Bamford, the son of JCB's owner Joe Bamford. John was commissioned to do a painting of Anthony's bright yellow MGB sports car. In July 1968 John left Chaseside Engineering, along with the rest of the workforce, clutching his redundancy cheque. At this point, John decided to fulfill his lifetime ambition by establishing himself as an independent professional artist. John had asked a joiner friend to make him a desk-cum-easel that just fitted into the corner of the family living room. It was quite a small working area, and the largest painting he was able to produce was just 24 x 48in. In 1968, John made his way to the galleries of Manchester. J. Davey & Son, a gallery on Bridge Street, bought several railway paintings there and then and John returned home triumphantly clutching a cheque for £30. Almost immediately John received commissions for specific subjects and in oils. This was good news as he could command the sort of prices that would ensure he could work as a full-time artist.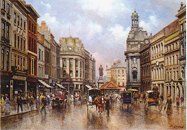 St. Anne's Square, Manchester in 1908
For the next few years, John says, he painted '... just about every important street, building and square in Manchester'. He still enjoys painting the area around St. Anne's Square where much of its original architecure is retained. 'Saint Anne's Square, Manchester in 1908' is typical of the work that John was producing at the time - generally set in Victorian or Edwardian times, crowded with pedestrians and carriages, the architecture meticulously realised. Blackburn Artist Society provided another exhibition venue from 1966 and John showed regularly at their spring and autumn exhibitions. John entered a number of Turner-inspired scenes of Venice as well as an atmospheric oil painting of a steam train inspired by 'Rain, Steam and Speed'. They were entered for the exhibition priced at 7 guineas and were sold even before the show was open to the public. He quickly increased his prices to 12 guineas. With more time and money to spend, John began to broaden his artistic education making visits to London's major galleries. As well as the Tate Gallery's Turner collection, the Science Museum was always high on the list to see the large painting of 'Waterloo Station' by Terence Cuneo, the one painting from which John considers he has learned the most. This panoramic view painted around 1960 is a perfect example of how to organise an emormously complicated and diverse composition into a unified image. John's painting were now being seen in commercial galleries throughout the North West. Individual customers and dealers would often want to see everything John had in the studio in order to make a choice for purchase, a process that could take hours, so cutting down on valuable painting time. The situation was far from ideal, aspart from wasting time, none of John's connections could offer him what he had now set his mind on - a one-man show in a London West-End gallery.
Success
John had first met Keith Lee in the early 1970's and in 1977 he got in touch again, offering the opportunity of an exhibition in a prestigious London gallery. Keith represented a number of northern artists, notably
Helen Bradley
, establishing Miss Carter Publications in the early '70s. As well as providing opportunities to exhibit more widely, Keith was able to put John's career on a sound business footing. Keith and his wife Pat would eventually go into partnership with John to form J. L. Chapman (Studios) Limited, selling limited edition prints and reproductions of his work, and securing a steady stream of private commissisions. By early 1978, John had completed over 40 new paintings for his first exhibition at W. H. Patterson's gallery in Mayfair. The exhibition was entitled 'The Nostalgic Works of J. L. Chapman'. In all, forty-two paintings were exhibited and well over thirty were sold on the preview night alone. The exhibition covered the full range of John's work, including railway scenes, period scenes of the Industrial North, rural landscapes and contemporary London views. It was a critical as well as a financial success. The London art critic and historian George Whittat compared the northern scenes favourably with Lowry's:
In composition, masterly in their control and placing of a wealth of complex details, an unerring sense of environment raises them above the impersonal truth to reality one derives from a photograph... John Chapman's grasp of authentic atmosphere endows his street scenes, complete with motor taxis, electric trams, horse-drawn carts and shoppers, even to the posters of tea on the hoardings, with a sure sense of period that is gone but which for many recalls what was visually at least 'the good old days'.
A second sell-out show followed in 1979. This exhibition 'London, the Enchanted City', featured fifty-two London views, all completed within a space of eighteen months. John was able to indulge his passion for trains in paintings such as 'Train Spotters at Victoria Station' and 'The Flying Scotsman Leaving King's Cross'. However, he also embarked on a range of new subjects, painting very ambitious large-scale contemporary aerial views, including Tower Bridge, Vauxhall Bridge and the area around St. Paul's as well as superbly detailed views of London's architectural landmarks. Successful London shows meant that John was now being offered exhibitions back home in public galleries. The Haworth Art Gallery in Accrington was the first Lancashire gallery to display his work. Blackburn Art Gallery hosted an exhibition of John's work in 1980, beginning an association that has lasted over 20 years. The exhibition was preceeded by a TV interview with Stuart Hall, which was shown on 'Look North West'. Over 600 people visited the exhibition on the first day, making it one of the gallery's most popular and successful exhibitions. A third major show took place at W. H. Patterson Fine Arts in 1981. By this time John was travelling more widely and was able to exhibit scenes from all over Britain. These included a first set of 'The Four Seasons', as well as Edwardian views of London, Edinburgh and York and large-scale atmospheric views of steam sheds, such as 'Steam Hall, West Region Locos'. John was also pleased that his less idyllic Blackburn views were finding an enthusiastic market. In 1984, after trying for several years, John finally managed to get a painting hung in the Royal Academy's Summer Exhibition. It was a small gouache of a horse being decorated for a show, entitled 'Shire Pride'. There were well over 1,000 other works in the exhibition and it was a pleasant surprise to find that it had sold on the preview evening. There were two further exhibitions at W. H. Patterson's gallery in the 1980s, the last one in 1985 being an exhibition of watercolours. In the late 1980s and early '90s, there was a change of direction in John's work, towards rural scenery, somewhat in the style of Helen Allingham, albeit with John's keen eye for architectural detail. It was work of this nature that bought a series of commissions for Wedgewood plate designs. Further commissions for Wedgewood included the very popular 'Life on the Farm', 'Village Life' and 'The Four Seasons' depicting rural life at the end of the nineteenth century. John's personal favourite was 'Country Connections', featuring barge horses and steam trains. The clarity and detail in John's work has led to a steady demand to reproduce his work in the form of calendars, greetings cards, jigsaws and prints. Far from shying away from mass reproduction, John sees this as a way for a broad audience to enjoy his work. John was married in 1988. He and his wife, Gillian, moved to Salesbury, an attractive village near Blackburn on the edge of the Ribble Valley - an area that has provided much inspiration. As well as having the luxury of a far larger space to work in, he also now finds time for more leisurely visits around the country in search of new subjects to paint. This more relaxed approach has led John to produce a number of subtly atmospheric views alongside the commissioned topographical work, subjects ranging from Cornish fishing villages to the hills of Sutherland and coastal views along the east coast. By the late '80s, John was working in acrylics almost exclusively, although he still regularly uses gouache, watercolours, and occasionally oils. His wife Gillian is allergic to oil paint, and John himself is less than keen on the smell of turpentine, so he was very pleased to discover Artisan oil colours which can be thinned with water. 1989 saw Johns first exhibition at the Stacy-Marks Gallery in Eastbourne. This exhibition of nearly ninety paintings featured a broad range of subjects from scenes of motor racing at Le Mans to railway subjects from Manchester and the Lake District. Some of Johns work now demonstrated his absorption of the styles of English landscape artists such as Richard Parkes Bonington and William Callow. The technique and colouring of the English watercolour school were also skilfully adapted to the portrayal of contemporary subjects. The Stacy-Marks Gallery has continued to support John over the years, with further exhibitions in 1993 and an exhibition at their new gallery at Helmsley, North Yorkshire in June 1998. John's keen eye for period detail and technical accuracy has bought a steady flow of requests from commercial clients looking to recreate something of their own earlier histories. These clients include Rochdale Co-operative Society and Harrods. Although quiet and self-depreciating in manner, John has always enjoyed being involved in local events. In 1992 he was offered an exhibition at Blackburn Cathedral and, by donating and original painting of the cathedral, was able to raise money for the restoration trust. A similar donation to Blackburn Hospital helped their scanner appeal. In July 1995 he was back at the Lewis Textile Museum in Blackburn with another one-man show, this time of about forty paintings - the product of two years' work. He continues to exhibit around the region, notably at Whalley and Clitheroe and is still an enthusiastic member of Blackburn Artists Society. As recently a 2002 Blackburn Art Gallery staged a successful exhibition - 'John Chapman's Lancashire' - of mainly new landscapes from around the county as well as one or two of the early Blackburn views. As a central part of his work, John continues to piece together convincing evocations of the past. He is still, at heart, a painter of the urban scene and still posseses a strong sense of nostalgia. Rural scenes will always play an important part in John's work, and Maritime subjects too will continue to engage him, particularly as trips to the coastlines of Kent and northeast Scotland are constantly providing fresh inspiration.
Adapted and abridged from 'John Chapman's Lancashire' by Stephen Whittle